CH-20 CONTINUOUS COOKER & CONCENTRATOR

CH-20 Continuous cooker are specially designed for hard boiled sweets. The cookers produce the batches f transparent sugar mass with any required proportion of glucose, with addition as required by recipe, of milk, malt, honey etc.., with lowest possible residual moisture for high boiled confectionery.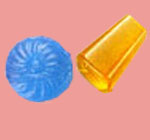 CH-20 The machine must be working with CH-10 sirup stirring autoclave to provide 110℃ melted sirup for continuous performance. Except for using two rotatory pans to deliver sugar mass continuously, It may work with a pump to press sirup continuously to filler for molding crystallized sugar.
3standard types available for your selection, We accept custom manufactured for special requirement.